Reducing Food Loss and Waste Workshop
October 17, 2018, Washington, DC
Registration opens soon

View a list of Sustainability-related meetings at the National Academies of Sciences, Engineering, and Medicine
Roundtable on Science and Technology for Sustainability
January 30-21, 2018, Washington, DC

Symposium at the National Council for Science and the Environment Conference
January 23, 2018 Arlington, VA

The Network for Emerging Leaders in Sustainability (NELS)
October 26, 2017 Washington, DC





February 2014
Table of Contents
We are pleased to present you with Sustainability at the National Academies, a monthly update highlighting activities related to sustainable development from throughout the National Academies. Please visit our website for additional information on these and other activities at http://sites.nationalacademies.org/PGA/sustainability.
The Roundtable on Science and Technology for Sustainability provides a unique forum for sharing views, information, and analyses related to sustainability. The goal for the Roundtable is to mobilize, encourage, and use scientific knowledge and technology to help achieve sustainability goals and to support the implementation of sustainability practices. Through its activities, the Roundtable identifies new ways in which science and technology can contribute to sustainability. What follows is a brief summary of sustainability-related activities being conducted throughout the National Academies.
You are receiving this update based on your participation in ongoing or past activities of the Roundtable. If you would prefer not to receive future monthly updates or would like to be added to the recipient list, please contact Dylan Richmond at 202-334-2489 or Sustainability@nas.edu or visit our website.

National Academies' Sustainability Fellowship
The Science and Technology for Sustainability Program (STS) of the National Academies will be hosting two rising college seniors as fellows during the summer of 2014. The fellowship is designed for students to learn about sustainability in the context of science and technology and will provide the opportunity for them to conduct research on a topic based on sustainability science and technology. These fellows will contribute substantially toward the STS Program's activities and will receive a functional understanding of the tools to factor sustainability into policy and decision making. STS Program staff will mentor the fellows to help guide them during their time in the program. Fellows will also be encouraged to learn about the Academies and would have the opportunity to attend workshops and committee meetings of interest during the fellowship. The hope is that these students, who might not have been exposed to sustainability concepts previously, will consider graduate education and professional direction focused on sustainability. More information, including eligibility requirements and how to apply, can be found on the fellowship announcement.

NEW STUDY: Sustainability Considerations for the Future of Animal Agriculture Science Research
Addressing the economic and environmental sustainability challenge of global food security requires an adequate, nutritious food supply produced and distributed cost effectively while improving efficiency across the entire food production system. Recognizing this challenge and the increasing global demand for animal products, an ad hoc committee under the STS Program, in collaboration with the Board on Agriculture and Natural Resources (BANR), will conduct a study and prepare a report that will identify critical research and development (R&D), technologies, and resource needs for research in the field of animal agriculture, both nationally and internationally. The first meeting of the committee will be held March 10, 2014, in Washington, DC. Those interested in attending should please register in advance.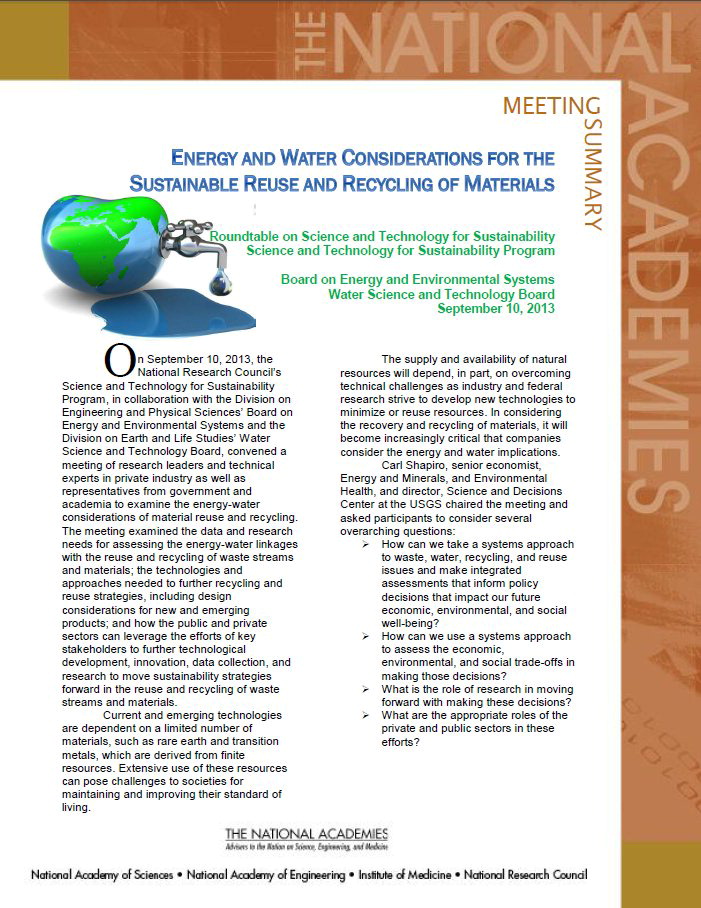 Energy and Water Considerations for the Sustainable Reuse and Recycling of Materials
In September 2013, the STS Program convened a meeting of research leaders and technical experts in private industry as well as representatives from government and academia to examine the energy-water considerations of material reuse and recycling. The meeting examined the data and research needs for assessing the energy-water linkages with the reuse and recycling of waste streams and materials; the technologies and approaches needed to further recycling and reuse strategies; and how the public and private sectors can leverage the efforts of key stakeholders to further technological development, innovation, data collection, and research. This meeting summary synthesizes the discussions held during the event.
Sustainable Diets: Food for Healthy People and a Healthy Planet - Workshop Summary
While one of the many benefits of the U.S. food system is a safe, nutritious, and consistent food supply, that same system also places significant strain on land, water, air, and other natural resources. A better understanding of the food-environment synergies and trade-offs associated with the U.S. food system would be one way to help reduce this strain. Part of the challenge is that experts in the fields of nutrition, agricultural science, and natural resource use do not regularly collaborate with each other. In order to bring together experts in these fields, the Institute of Medicine's Food Forum and Roundtable on Environmental Health Sciences, Research, and Medicine held a workshop in May 2013. Participants in the workshop explored current and emerging knowledge on the food and nutrition policy implications of increasing environmental constraints on the food system as well as the relationship between human health and the environment. The workshop also examined the role of the food price environment and how environmental sustainability can be incorporated into dietary guidance.
Understanding the Connections Between Coastal Waters and Ocean Ecosystem Services and Human Health - Workshop Summary
Humans rely on the natural environment - such as oceans and coastal waters - for essential human services like providing food and essential dietary nutrients and purifying drinking water. These benefits are referred to as ecosystem services. Humans also rely on the environment for the natural cycles that renew the oxygen in the air, reduce carbon dioxide in the air, and recycle nitrogen. Disruption to these processes can create negative human health effects. With growing populations and increasing standards of living globally, additional pressures will be placed on the world's oceans and waterways to provide essential services. In November 2012, the Institute of Medicine's Roundtable on Environmental Health Sciences, Research, and Medicine held a workshop to discuss coastal waters and ocean ecosystem services in the United States and to understand the impacts on human health. This report summarizes the workshop.
Climate Change: Evidence and Causes
A jointly produced publication of The US National Academy of Sciences and The Royal Society, this publication is intended as a brief, readable reference document for decision makers, policy makers, educators, and other individuals seeking authoritative information on the some of the questions that continue to be asked. This report makes clear what is well-established and where understanding is still developing. It echoes and builds upon the long history of climate-related work from both national academies, as well as on the newest climate-change assessment from the United Nations' Intergovernmental Panel on Climate Change. It touches on current areas of active debate and ongoing research, such as the link between ocean heat content and the rate of warming.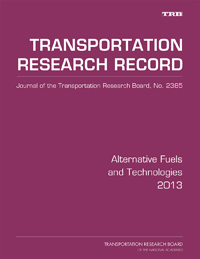 Alternative Fuels and Technologies 2013
The Transportation Research Board's Transportation Research Record: Journal of the Transportation Research Board, No. 2385 consists of 8 that explore plug-in hybrid electric vehicles; biodiesel from lagoon microalgae; sustainable biofuel supply chain planning and management; location of electric vehicle charging stations; neighborhood effects on hybrid vehicle adoption; travel behavior and electric mobility in Germany; plug-in electric cars for work travel; and modeling large-scale transitions to alternative fuels and vehicles.
Identifying Transformative Research in the Geographical Sciences: A Workshop
Transformative science drives significant advances by providing new theoretical or technical frameworks that re-orient existing fields or even create new fields. Yet, the history of science shows many transformative concepts were very difficult to identify when initially introduced. An ad hoc committee will organize a public workshop as a primary source of information to examine transformative research as it has influenced the evolution of the geographical sciences to provide insight into how transformative research evolved in the past so that it can be encouraged in the future.
Best Practices for Risk-Informed Remedy Selection, Closure, and Post-Closure Control of Contaminated Sites: A Workshop Series
An ad hoc committee of the Division on Earth & Life Studies' Nuclear and Radiation Studies Board (DELS/NRSB), in collaboration with the STS Program, organized two public workshops on best practices for risk-informed remedy selection, closure, and post-closure control of radioactive and chemically contaminated sites that cannot be remediated for unrestricted release. The workshops examined best-in-class remediation, closure, and post closure approaches that are being developed and applied by recognized leaders in the community of remediation practice; regulatory practices that promote effective, risk-informed decision-making; and future opportunities to improve these approaches and practices. The first of the two workshops was held on October 30-31, 2013 in Washington, DC. An individually-authored summary of the first workshop will be issued by the STS Program. The second workshop was held in January 2014.
Scientific Tools and Approaches for Sustainability
The Board on Environmental Studies and Toxicology (BEST) in collaboration with the STS Program will convene an ad hoc committee to examine applications of numerous scientific tools and approaches for incorporating sustainability concepts into assessments used to support Environmental Protection Agency (EPA) decision making. Using specific case studies it develops (e.g., environmental media and sector-based), the committee will consider the application of analytic and scientific tools, methods, and approaches in the Sustainability Assessment and Management (SAM) process presented in the 2011 NRC report Sustainability and the U.S. EPA. The recommended process is intended to assess options for optimizing environmental, social (including health), and economic outcomes in EPA decisions. The committee will focus on analytic and scientific tools, methods, and approaches and will not recommend specific policy choices.
Sustainability for the Nation: Resource Connections and Governance Linkages
On June 28, 2013, an ad hoc committee under the STS Program publicly released a landmark consensus report that provides a decision framework for policymakers to examine the consequences and operational benefits of sustainability-oriented programs. The report also recommends priority areas for interagency cooperation on specific sustainability challenges; identifies impediments to interdisciplinary, cross-media federal programs; and highlights scientific research gaps as they relate to these interdisciplinary, cross-media approaches to sustainability. A booklet provides a brief summary of the report. On January 28-29, 2014, the STS Program hosted two sessions to discuss the report at the annual National Council for Science and the Environment Conference in Arlington, VA.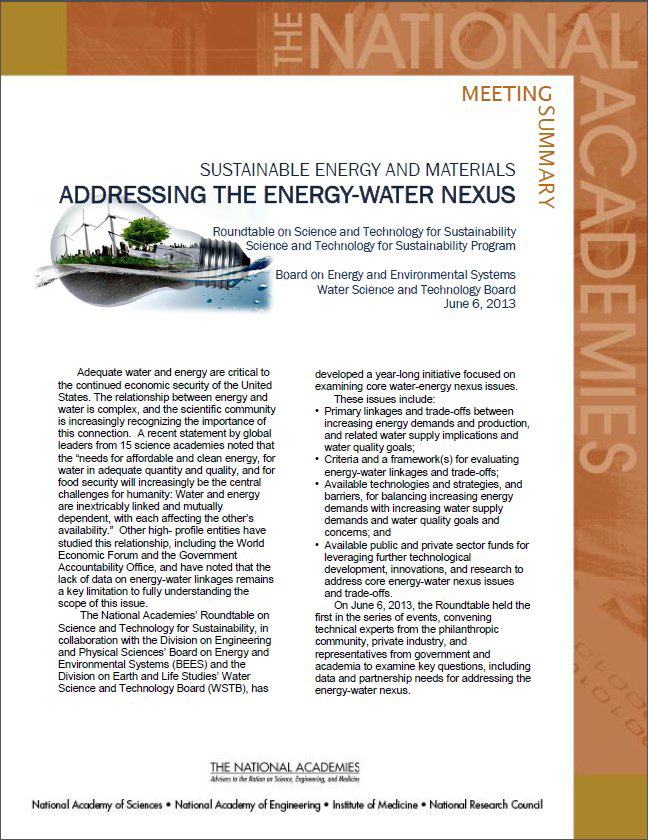 Sustainable Energy and Materials: Addressing the Energy-Water Nexus
As the first event of a year-long initiative, a session was held at the June 2013 Roundtable on Science and Technology for Sustainability meeting in collaboration with the Division on Engineering and Physical Sciences' Board on Energy and Environmental Systems (BEES) and the Division on Earth and Life Studies' Water Science and Technology Board (WSTB). The session featured panel discussions focused on addressing issues related to the energy-water nexus, a key sustainability issue, as adequate water and energy are critical to the continued economic security of the United States. The event examined key questions, including data and partnerships needs for addressing the energy-water nexus. Further events are being planned for 2014.
March 2014
Guidance for NSF on National Ocean Science Research Priorities: Decadal Survey for Ocean Sciences
March 1-2, 2014, Honolulu, HI
Science and Technology Capabilities at the Department of State
March 3-4, 2014, Washington, DC
Risk-Based Methods for Insurance Premiums of Negatively Elevated Structures in the National Flood Insurance Program
March 6-7, 2014, Washington, DC
Reinvesting in Inland Waterways: What Policy Makers Need to Know
March 7-8, 2014, Washington, DC
Sustainability Considerations for the Future of Animal Agriculture Science Research
March 10-11, 2014, Washington, DC
PCR Standards for the Biowatch Program
March 13-14, 2014, Washington, DC
Workshop on Principles and Best Practices for Sharing Data from Environmental Health Research
March 19, 2014, Washington, DC
Communicating Risk for Resilient Communities
March 26, 2014, Washington, DC
Regional Disaster Response Coordination to Support Health Outcomes: Workshop #1
March, 26, 2014, Irvine, CA
Analysis of Costs and Benefits of Reforms to the National Flood Insurance Program
March 27-28, 2014, Washington, DC
Development of a Strategic Vision and Implementation Plan for the U.S. Antarctic Program at the National Science Foundation
March 31-April 1, 2014, Washington, DC

PNAS Sustainability Science, Special Features
PNAS offers a series of special feature issues that highlight emerging fields in the physical, social, and biological sciences and are edited by leaders in the field. Special Features include a cluster of Perspectives and peer-reviewed research articles. As a service to readers, Special Features are freely available online from the date of publication.

From the February 2014 issue:

To learn more about sustainability activities, both in the STS Program and throughout the other boards and committees of the National Academies, please visit our webpage.

Preparation of this update was supported by the National Academies' George and Cynthia Mitchell Endowment for Sustainability Science



Unsubscribe
To stop receiving these emails, use this link to unsubscribe or reply to this message with "unsubscribe" in the subject line.

Questions?
Send questions or comments to Sustainability@nas.edu

Copyright © 2014. National Academies.
500 Fifth Street NW, Washington, D.C. 20001.
Privacy Statement