View a list of Sustainability-related meetings at the National Academies of Sciences, Engineering, and Medicine
Reducing Food Loss and Waste Workshop
October 17, 2018, Washington, DC

Report Release: Housing, Health and Homelessness
July 11, 2018 11am-12pm, Washington, DC

Roundtable on Science and Technology for Sustainability
January 30-21, 2018, Washington, DC

Symposium at the National Council for Science and the Environment Conference
January 23, 2018 Arlington, VA



March 2014
Table of Contents
We are pleased to present you with Sustainability at the National Academies, a monthly update highlighting activities related to sustainable development from throughout the National Academies. Please visit our website for additional information on these and other activities at http://sites.nationalacademies.org/PGA/sustainability.
The long-term goal of the National Academies' Science and Technology for Sustainability (STS) Program is to contribute to sustainable improvements in human well-being by creating and strengthening the strategic connections between scientific research, technological development, and decision-making. The Program examines issues at the intersection of the three sustainability pillars-social, economic, and environmental-and aims to strengthen science for decision-making related to sustainability. What follows is a brief summary of sustainability-related activities being conducted throughout the National Academies.
You are receiving this update based on your participation in ongoing or past activities of the Roundtable. If you would prefer not to receive future monthly updates or would like to be added to the recipient list, please contact Dylan Richmond at 202-334-2489 or Sustainability@nas.edu or visit our website.

Considerations for the Future of Animal Science Research
The first committee meeting for this study, collaboratively administered by the STS Program and the Board on Agriculture and Natural Resources (BANR), was held on March 10-11, 2014, in Washington, DC. Presentations made by the sponsors of the study and invited panelists have been posted on the STS website. The next meeting will take place May 13-14, in Washington, DC, and additional details regarding it will be posted in the coming weeks.
Pathways to Urban Sustainability: Perspectives from Portland and the Pacific Northwest
In May 2013, a committee under the STS Program convened a workshop to examine issues relating to sustainability and human-environment interactions in the Portland metropolitan region. Topics addressed included the role of land-use restrictions on development, transportation innovations, and economic and social challenges. The speakers at the workshop used examples from Portland and the greater Pacific Northwest region to explore critical questions in finding pathways to urban sustainability.
Applying a Health Lens to Decision Making in Non-Health Sectors: Workshop Summary
Health is influenced by a wide range of factors, many of which fall outside of the health care delivery sector. These determinants of health include, for example, the characteristics of how people live, work, learn, and play. Decision and policy making in areas such as transportation, housing, and education at different levels of government, and in the private sector, can have far-reaching impacts on health. Throughout the United States there has been increasing dialogue on incorporating a health perspective into policies, programs, and projects outside the health field. This report is the summary of a workshop convened in September 2013 by the Institute of Medicine Roundtable on Population Health Improvement to foster cross-sectoral dialogue and consider the opportunities for and barriers to improving the conditions for health in the course of achieving other societal objectives (e.g., economic development, efficient public transit).
Opportunities to Use Remote Sensing in Understanding Permafrost and Related Ecological Characteristics: Report of a Workshop
Climate change is causing the widespread thawing and degradation of permafrost, subsurface soil or rock that remains frozen for two or more consecutive years. Changes in permafrost could cause significant impacts-for example, by causing erosion that damages buildings, roads, or other infrastructure, by causing shifts in ecosystems, and by contributing large amounts of carbon to the atmosphere. Data are needed to observe and monitor permafrost, and project permafrost change. However, permafrost is difficult to study because it is located beneath the ground surface, is largely found in remote locations, and is vastly distributed. An ad hoc committee of experts, under the auspices of the National Research Council, organized a workshop to explore opportunities for harnessing remote sensing technologies (both from existing sensors and those expected in the near future) to learn more about permafrost status and trends. Workshop participants also discussed how measurements of ecological variables could provide insight to permafrost conditions and processes.
Sustainable Energy and Transportation Strategies, Research, and Data
The Transportation Research Board's Conference Proceedings on the Web 14: Sustainable Energy and Transportation Strategies, Research, and Data includes summaries of plenary session presentations that were made during a November 2012 conference in Washington, D.C. The conference explored potential research needed to further advance the development of alternatives to petroleum-based transportation and to lower greenhouse gas emissions.
Offshore Oil and Gas Industry Safety Culture: A Framing Study
In this project, an ad hoc committee will conduct a study in order to frame the issues and knowledge gaps that would need to be addressed in subsequent industry and government efforts, research, and future studies to strengthen offshore industry safety culture. In addressing its task, the committee will gather information from safety culture experts, industry, regulators, workers, and the public in order to identify the essential characteristics of a strong safety culture; barriers to achieving a strong safety culture in the offshore industry; and possible ways of overcoming these challenges. The committee will also identify potential effective strategies to measure and assess company and industry safety culture.

Review of the National Science Foundation's Division of Atmospheric and Geospace Sciences (AGS) Draft Science Goals and Objectives
An ad hoc NRC committee will review the draft Division of Atmospheric and Geospace Sciences (AGS) draft science goals and objectives in a two-part process (Phase 1 and 2). Phase 1 will consist of planning and hosting a public workshop to engage the atmospheric sciences community and others as appropriate to provide feedback on the draft. The workshop will be designed to seek specific input on the draft by asking invited workshop speakers and other participants to share their views in the context of the questions above. A recap of workshop will be produced by NRC staff. In Phase 2, the committee will write a letter report reviewing the AGS draft goals and objectives by addressing the questions above from its own standpoint.

Review of the Risk Assessment Process for Pesticides in the California EPA's Department of Pesticide Regulation
An ad hoc committee will conduct an independent scientific and technical evaluation of the California EPA's risk-assessment process for pesticides. The committee will examine documents provided by the California EPA's Department of Pesticide Regulation (DPR) on the processes it uses for hazard identification, exposure assessment, dose-response analysis, and risk characterization. Consideration will be given to whether the methods and approaches are consistent with best practices, such as those outlined in recent NRC risk-assessment reports. The committee will also evaluate the methods used for prioritizing chemicals for assessment, and the overall process that DPR uses to complete risk assessments to identify possible options for improving process efficiency and productivity.
Considerations for the Future of Animal Science Research
Addressing the economic and environmental sustainability challenge of global food security requires an adequate, nutritious food supply produced and distributed cost effectively while improving efficiency across the entire food production system. Recognizing this challenge and the increasing global demand for animal products, an ad hoc committee under the STS Program, in collaboration with the Board on Agriculture and Natural Resources (BANR), will conduct a study and prepare a report that will identify critical research and development (R&D), technologies, and resource needs for research in the field of animal agriculture, both nationally and internationally. The first meeting of the committee was held on March 10-11, 2014. The second meeting will be held in May 2014. A final report based on the committee's deliberations will be completed by December 2014.

Sustainability for the Nation: Resource Connections and Governance Linkages
On June 28, 2013, an ad hoc committee under the STS Program publicly released a landmark consensus report that provides a decision framework for policymakers to examine the consequences and operational benefits of sustainability-oriented programs. The report also recommends priority areas for interagency cooperation on specific sustainability challenges; identifies impediments to interdisciplinary, cross-media federal programs; and highlights scientific research gaps as they relate to these interdisciplinary, cross-media approaches to sustainability. A booklet provides a brief summary of the report. On January 28-29, 2014, the STS Program hosted two sessions to discuss the report at the annual National Council for Science and the Environment Conference in Arlington, VA.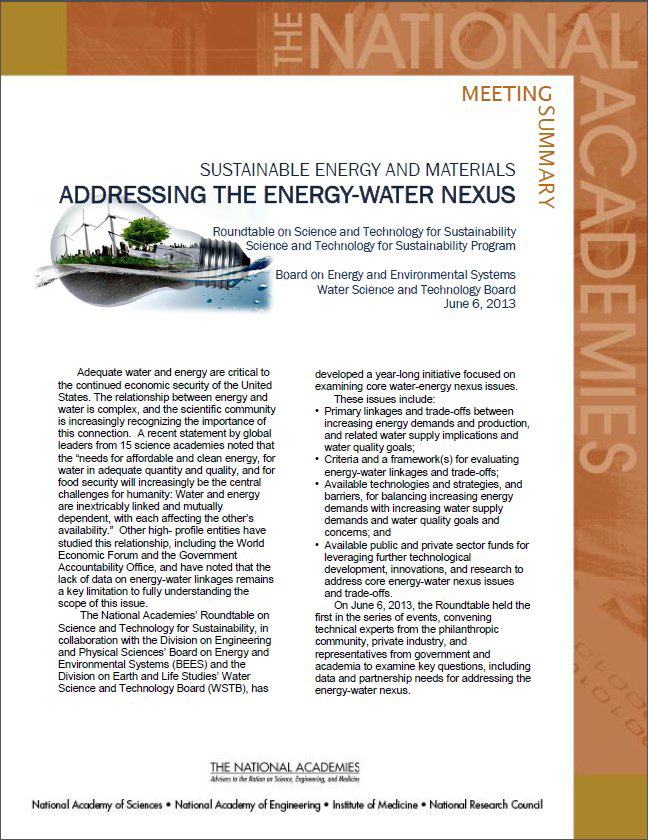 Sustainable Energy and Materials: Addressing the Energy-Water Nexus
As the first event of a year-long initiative, a session was held at the June 2013 Roundtable on Science and Technology for Sustainability meeting in collaboration with the Division on Engineering and Physical Sciences' Board on Energy and Environmental Systems (BEES) and the Division on Earth and Life Studies' Water Science and Technology Board (WSTB). The session featured panel discussions focused on addressing issues related to the energy-water nexus, a key sustainability issue, as adequate water and energy are critical to the continued economic security of the United States. The event examined key questions, including data and partnerships needs for addressing the energy-water nexus. A second event, held in December 2013, delved deeper, focusing on energy-water nexus issues associated with power plants. Further events are being planned for 2014.

Best Practices for Risk-Informed Remedy Selection, Closure, and Post-Closure Control of Contaminated Sites: A Workshop Series
An ad hoc committee of the Division on Earth & Life Studies' Nuclear and Radiation Studies Board (DELS/NRSB), in collaboration with the STS Program, organized two public workshops on best practices for risk-informed remedy selection, closure, and post-closure control of radioactive and chemically contaminated sites that cannot be remediated for unrestricted release. The workshops examined best-in-class remediation, closure, and post closure approaches that are being developed and applied by recognized leaders in the community of remediation practice; regulatory practices that promote effective, risk-informed decision-making; and future opportunities to improve these approaches and practices. The first workshop was held in October 2013 and the second in January 2014, both in Washington, DC. An individually-authored summary of the two workshops will be issues in the near future.

Scientific Tools and Approaches for Sustainability
The Board on Environmental Studies and Toxicology (BEST) in collaboration with the STS Program will convene an ad hoc committee to examine applications of numerous scientific tools and approaches for incorporating sustainability concepts into assessments used to support Environmental Protection Agency (EPA) decision making. Using specific case studies it develops (e.g., environmental media and sector-based), the committee will consider the application of analytic and scientific tools, methods, and approaches in the Sustainability Assessment and Management (SAM) process presented in the 2011 NRC report Sustainability and the U.S. EPA. The recommended process is intended to assess options for optimizing environmental, social (including health), and economic outcomes in EPA decisions. The committee will focus on analytic and scientific tools, methods, and approaches and will not recommend specific policy choices.
April 2014
Determinants of Market Adoption of Advance Energy Efficiency and Clean Energy Technologies
April 1-3, 2014, San Francisco, CA
Improving the Health, Safety, and Well-being of Young Adults
April 2-3, 2014, Irvine, CA
Assessment of Technologies for Improving Fuel Economy of Light-Duty Vehicles--Phase 2
April 3-4, 2014, Washington, DC
Data and Research to Improve the U.S. Food Availability System and Estimates of Food Loss: A Workshop
April 8-9, 2014, Washington, DC
Review of the Risk Assessment Process for Pesticides in the California EPA's Department of Pesticide Regulation
April 8-9, 2014, Sacramento, CA
A Framework for Assessing Health, Environmental, and Social Effects of the Food System
April 11, 2014, Washington, DC
Suspended in a Sunbeam: How the Sun Influences the Earth, from Surface to Space
April 23, 2014, Irvine, CA
Review of the National Science Foundation's Division of Atmospheric and Geospace Sciences (AGS) Draft Science Goals and Objectives
April 24-25, 2014, Woods Hole, MA
PNAS Sustainability Science, Special Features




PNAS offers a series of special feature issues that highlight emerging fields in the physical, social, and biological sciences and are edited by leaders in the field. Special Features include a cluster of Perspectives and peer-reviewed research articles. As a service to readers, Special Features are freely available online from the date of publication.

From the March 2014 issue:

To learn more about sustainability activities, both in the STS Program and throughout the other boards and committees of the National Academies, please visit our

webpage.

Preparation of this update was supported by the National Academies' George and Cynthia Mitchell Endowment for Sustainability Science



Unsubscribe
To stop receiving these emails, use this link to unsubscribe or reply to this message with "unsubscribe" in the subject line.

Questions?
Send questions or comments to Sustainability@nas.edu

Copyright © 2014. National Academies.
500 Fifth Street NW, Washington, D.C. 20001.
Privacy Statement