View a list of Sustainability-related meetings at the National Academies of Sciences, Engineering, and Medicine
Reducing Food Loss and Waste Workshop
October 17, 2018, Washington, DC

Report Release: Housing, Health and Homelessness
July 11, 2018 11am-12pm, Washington, DC

Roundtable on Science and Technology for Sustainability
January 30-21, 2018, Washington, DC

Symposium at the National Council for Science and the Environment Conference
January 23, 2018 Arlington, VA




July 2014
Table of Contents
We are pleased to present you with Sustainability at the National Academies, a monthly update highlighting activities related to sustainable development from throughout the National Academies. Please visit our website for additional information on these and other activities at http://sites.nationalacademies.org/PGA/sustainability.
The long-term goal of the National Academies' Science and Technology for Sustainability (STS) Program is to contribute to sustainable improvements in human well-being by creating and strengthening the strategic connections between scientific research, technological development, and decision-making. The Program examines issues at the intersection of the three sustainability pillars-social, economic, and environmental-and aims to strengthen science for decision-making related to sustainability. What follows is a brief summary of sustainability-related activities being conducted throughout the National Academies.
You are receiving this update based on your participation in ongoing or past activities of the Roundtable. If you would prefer not to receive future monthly updates or would like to be added to the recipient list, please contact Dylan Richmond at 202-334-2489 or Sustainability@nas.edu or visit our website.

National Academies' Sustainability Fellowship
The STS Program hosted two undergraduate fellows this summer. Brent Heard, Carnegie Mellon University, and Christine Johnson, Georgetown University, began with the Program on June 16 and were here for six weeks, recently ending their fellowship on July 25. While here, both fellows actively participated in the Program's projects and met with a variety of Boards across the Academies to learn about their activities. They also had the opportunity to attend hearings on the Hill that were of interest to them and the STS Program. Stay tuned for the details for the 2015 program next spring.

Apply to Become a Mirzayan Fellow
Applications are now being accepted for the 2015 session of the Christine Mirzayan Science & Technology Policy Fellowship Program. The program provides early-career individuals with the opportunity to spend 12 weeks at the National Academies in Washington, DC, learning about science and technology policy, the role that scientists and engineers play in advising the nation, and options for entering that career path. Applications are due September 1, 2014.
Reducing Coastal Risks on the East and Gulf Coasts
Hurricane- and coastal-storm-related losses have increased substantially during the past century, largely due to increases in population and development in the most susceptible coastal areas. Climate change poses additional threats to coastal communities from sea level rise and possible increases in strength of the largest hurricanes. Several large cities in the United States have extensive assets at risk to coastal storms, along with countless smaller cities and developed areas.This report reviews the coastal risk-reduction strategies and levels of protection that have been used along the United States East and Gulf Coasts to reduce the impacts of coastal flooding associated with storm surges. This report evaluates their effectiveness in terms of economic return, protection of life safety, and minimization of environmental effects. According to this report, the vast majority of the funding for coastal risk-related issues is provided only after a disaster occurs. This report calls for the development of a national vision for coastal risk management that includes a long-term view, regional solutions, and recognition of the full array of economic, social, environmental, and life-safety benefits that come from risk reduction efforts.
Climate Change Education: Preparing Future and Current Business Leaders: A Workshop Summary
Climate change poses challenges as well as opportunities for businesses and, broadly speaking for the entire economy. Businesses will be challenged to provide services or products with less harmful influence on the climate; respond to a changing policy, regulatory, and market environment; and provide new services and products to help address the challenges of a changing climate. Many businesses are beginning to see climate change as another context within which they need to consider their core functions of strategy, finance, operations, marketing, and their regulatory environments, a context that poses both risks and opportunities. This report summarizes a workshop hosted by the National Research Council's Board on Science Education in March 2013 to explore issues associated with teaching climate change-related topics in business schools. The workshop focused on major gaps in understanding of climate and sustainability education in postsecondary professional schools of business.
Lessons Learned from the Fukushima Nuclear Accident for Improving Safety of U.S. Nuclear Plants
A new congressionally mandated report from the National Academy of Sciences examines the causes of the accident at the Fukushima Daiichi nuclear plant initiated by the March 11, 2011 Great East Japan Earthquake and tsunami and identifies lessons learned for improving nuclear plant safety and offsite emergency responses to nuclear plant accidents in the United States. The overarching lesson learned is that nuclear plant licensees and their regulators must actively seek out and act on new information about hazards that have the potential to affect the safety of nuclear plants. Specifically, licensees and their regulators must continually seek out new scientific information about nuclear plant hazards and methodologies for estimating their magnitudes, frequencies, and potential impacts; nuclear plant risk assessments must incorporate these new information and methodologies as they become available; and plant operators and regulators must take timely actions to implement countermeasures when such new information results in substantial changes to risk profiles at nuclear plants.
Enhancing the Value and Sustainability of Field Stations and Marine Laboratories in the 21st Century
Amid rapid environmental change, a strong understanding of the natural world is more important than ever. Field stations and marine laboratories place scientists on the front lines of our changing Earth, helping them gather the data needed to better understand shifting climate and ecosystems and make robust projections of future conditions. Field stations are a critical component of our scientific infrastructure that bring the basic tools of science into the field and connect scientists, educators, and communities to the environment. But to fulfill their vital role, field stations must evolve. This report explores strategies to harness the power and potential of field stations to address complex challenges in science and society.
Environment and Sustainability 2014
The Transportation Research Board's Transportation Research Record: Journal of the Transportation Research Board, No. 2403 consists of eight papers that explore valuation and crediting approaches for planning agencies; habitat conservation plans; short-term effect of pavement surface aging on tire-pavement noise; wayside traffic noise levels; expert systems archeological predictive model; decision methodology for temperature control of pavements; multicriterion sustainability assessment in transportation; and livability ethics.
Genetically-Engineered Crops: Past Experience and Future Prospects
Building on and updating the concepts and questions raised in previous National Research Council (NRC) reports addressing food safety, environmental, social, economic, regulatory, and other aspects of genetically-engineered (GE) crops, an ad hoc committee will conduct a broad review of available information on GE crops in the context of the contemporary global food and agricultural system. The study will examine the history of the development and introduction of GE crops in the United States and internationally, including GE crops that were not commercialized, and the experiences of developers and producers of GE crops in different countries. It will also assess the basis of purported negative effects of GE crops and their accompanying technologies, such as poor yields, deleterious effects on human and animal health, increased use of pesticides and herbicides, the creation of "super-weeds," reduced genetic diversity, fewer seed choices for producers, and negative impacts on farmers in developing countries and on producers of non-GE crops, and others, as appropriate.

Developing a U.S. Research Agenda to Advance Subseasonal to Seasonal Forecasting
An ad hoc committee will conduct a study that will identify opportunities to increase forecasting skill on subseasonal to seasonal (S2S) timescales based on the 2010 NRC report Assessment of Intraseasonal to Interannual Climate Prediction and Predictability and progress since. The report will describe a strategy to increase the nation's scientific capacity for research on S2S forecasting. The committee will develop a 10-year scientific research agenda to accelerate progress on extending prediction skill for weather and ocean forecasts at spatial and temporal resolutions to aide in decision making. The committee's report will cover a range of topics: identification of potential sources of predictability and assessment of their relative value for advancing predictive skill; identification of process studies for incorporating new sources of predictability into models; application and advancement of ocean-atmosphere-ice-land coupled models; key observations needed for model initialization and verification of S2S forecasts; uncertainty quantification and verification of probabilistic products; approaches to communicating this type of prediction in a way that is useful to and understandable by decision makers; and computational and data storage and visualization infrastructure requirements.
Considerations for the Future of Animal Science Research
Addressing the economic and environmental sustainability challenge of global food security requires an adequate, nutritious food supply produced and distributed cost effectively while improving efficiency across the entire food production system. Recognizing this challenge and the increasing global demand for animal products, an ad hoc committee under the STS Program, in collaboration with the Board on Agriculture and Natural Resources (BANR), will conduct a study and prepare a report that will identify critical research and development (R&D), technologies, and resource needs for research in the field of animal agriculture, both nationally and internationally. The committee meetings were held in March, May, and July of 2014, and a final report based on the their deliberations will be completed by December 2014.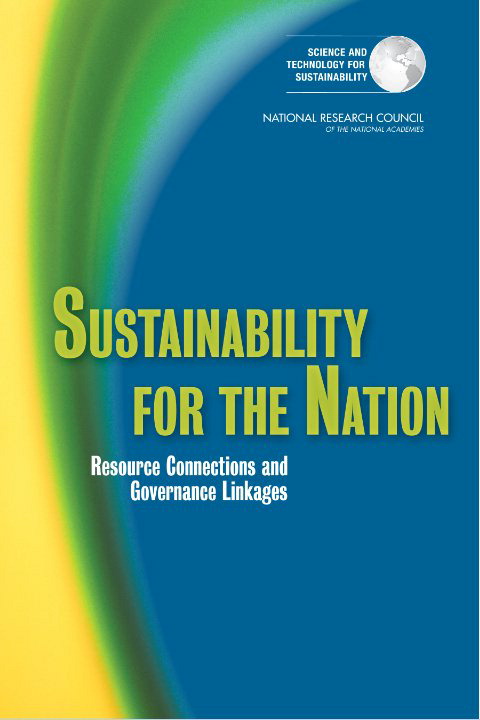 Sustainability for the Nation: Resource Connections and Governance Linkages
In June 2013, an ad hoc committee under the STS Program publicly released a landmark consensus report that provides a decision framework for policymakers to examine the consequences and operational benefits of sustainability-oriented programs. The report also recommends priority areas for interagency cooperation on specific sustainability challenges; identifies impediments to interdisciplinary, cross-media federal programs; and highlights scientific research gaps as they relate to these interdisciplinary, cross-media approaches to sustainability. A booklet provides a brief summary of the report. In January 2014, the STS Program hosted two sessions to discuss the report at the annual National Council for Science and the Environment Conference in Arlington, VA.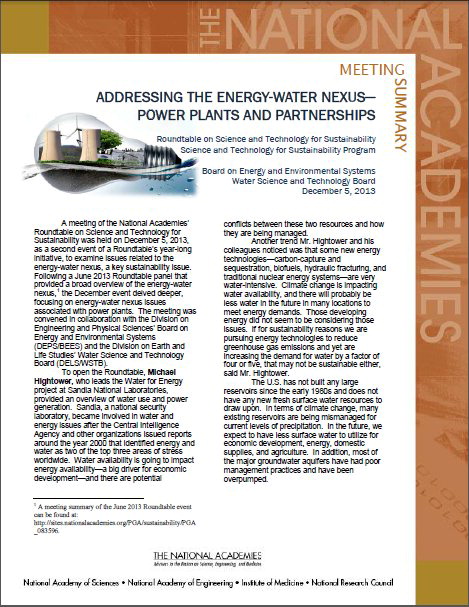 Addressing the Energy-Water Nexus: Roundtable on Science and Technology for Sustainability
The National Academies' Roundtable on Science and Technology for Sustainability, in collaboration with the Division on Engineering and Physical Sciences' Board on Energy and Environmental Systems (BEES) and the Division on Earth and Life Studies' Water Science and Technology Board (WSTB), held two events in 2013 focused on examining energy-water nexus issues. The first event, held in June 2013, provided a broad overview of the energy-water nexus, including examining key data and partnerships needs for addressing the nexus. A second event, held in December 2013, delved deeper, focusing on energy-water nexus issues associated with power plants. As the first event of the Roundtable's 2014 initiative, the May 2014 event featured panel discussions addressing issues related to the energy-water nexus through further technological innovation. An additional event is being planned for 2014.

Best Practices for Risk-Informed Remedy Selection, Closure, and Post-Closure Control of Contaminated Sites: A Workshop Series
An ad hoc committee of the Division on Earth & Life Studies' Nuclear and Radiation Studies Board (DELS/NRSB), in collaboration with the STS Program, organized two public workshops on best practices for risk-informed remedy selection, closure, and post-closure control of radioactive and chemically contaminated sites that cannot be remediated for unrestricted release. The workshops examined best-in-class remediation, closure, and post closure approaches that are being developed and applied by recognized leaders in the community of remediation practice; regulatory practices that promote effective, risk-informed decision-making; and future opportunities to improve these approaches and practices. The first workshop was held in October 2013 and the second in January 2014, both in Washington, DC. An individually-authored summary of the two workshops will be issued in the near future.
August 2014
Assessment of Technologies for Improving Fuel Economy of Light-Duty Vehicles--Phase 2
August 1, 2014, Ypsilanti, MI
Identifying Transformative Research in the Geographical Sciences: A Workshop
August 5-7, 2014, Irvine, CA
Long-Run Macro-Economic Effects of the Aging U.S. Population--Phase II
August 8-9, 2014, Irvine, CA
Review of the Edwards Aquifer Habitat Conservation Program
August 11-12, 2014, Woods Hole, MA
Expert Meeting on Assessing and Encouraging Interaction between Genetic and Social-Behavioral Models
August 13, 2014, Washington, DC
Industrialization of Biology: A Roadmap to Accelerate Advanced Manufacturing of Chemicals
August 13-14, 2014, Emeryville, CA
Post-Disaster Recovery of a Community's Public Health, Medical, and Social Services
August 14, 2014, Online
Science and Technology Capabilities at the Department of State
August 20-21, 2014, Washington, DC

PNAS Sustainability Science, Special Features
PNAS offers a series of special feature issues that highlight emerging fields in the physical, social, and biological sciences and are edited by leaders in the field. Special Features include a cluster of Perspectives and peer-reviewed research articles. As a service to readers, Special Features are freely available online from the date of publication.

From the July 2014 issue:

To learn more about sustainability activities, both in the STS Program and throughout the other boards and committees of the National Academies, please visit our webpage.

Preparation of this update was supported by the National Academies' George and Cynthia Mitchell Endowment for Sustainability Science
Questions?
Send questions or comments to Sustainability@nas.edu