JOIN UIDP
UIDP membership is by organization. Interested companies or universities learn more and apply by emailing info@uidp.net.
---
---
UIDP STAFF


Anthony M. Boccanfuso, Ph.D. Tony is Executive Director of the University-Industry Demonstration Partnership (UIDP), a membership organization and "do-tank" comprised of leading innovation companies and research universities with a singular focus on improving collaborations between the sectors. In recognition of his experience and insights in this arena, Tony is regularly sought after as a speaker (both domestically and internationally) and has published several reference sources. Tony holds a Ph.D. in Inorganic Chemistry from the University of South Carolina and earned his B.S. in Chemistry and Political Science from Furman University. He also serves as a consultant for government agencies, non-profit organizations and private firms and is Vice-Chair of the MedStar Health Research Institute. Tony's wife, Dr. Laura Boccanfuso, is a social robotics researcher at Yale, and they have three children, Carolina a University of Alabama student, Michael a high school sophomore and Ana a middle schooler.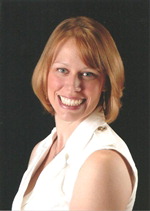 Kristina Thorsell, MPP Kristina is an Associate Program Officer for the Government-University-Industry Research Roundtable & the University Industry Demonstration Partnership. Kristina works at the intersection of academia, industry, and government on topics relating to research and development, innovation, and commercialization. She assists in managing and coordinating the activities of both the Government-University-Industry Research Roundtable (GUIRR) and the University-Industry Demonstration Partnership (UIDP). Kristina manages UIDP's robust project portfolio which addresses barriers to collaboration between universities and companies. She also moderates GUIRR's monthly webinar series. Her background is a unique hybrid of science and policy work. Kristina holds a B.S. in Chemistry and Biochemistry from Purdue University. She also has a Master of Public Policy from the University of Maryland, College Park where she dual specialized in International Development Policy and in International Security & Economic Policy. Prior to joining the National Academies Kristina interned with the American Association for the Advancement of Science (AAAS) in the Scientific Responsibility, Human Rights, and Law Program.
Susan Sauer Sloan, Director, Government-University-Industry Research Roundtable (GUIRR) joined the National Academies on May 27, 2008 as Director of the Government-University-Industry Research Roundtable. Before assuming the role, Ms. Sloan served a six-month appointment as Executive in Residence at the Center for the Advancement of Scholarship on Engineering Education (CASEE) of the National Academy of Engineering and, for the six years prior, as Chief Executive Officer of the Global Wireless Education Consortium (GWEC), a university-industry membership organization committed to the development and incorporation of current wireless technology curricula in academic institutions worldwide. Earlier in her career, Ms. Sloan worked as Corporate/Foundation Relations Consultant to the National Science Foundation's Division of Undergraduate Education, as Associate Director of the Master of Health Science (MHS) in Health Policy program at the Johns Hopkins University School of Public Health, as Director of Communications for Sigma-Tau Pharmaceuticals, Inc., and as Senior Program Associate for the American Association for the Advancement of Science. Sloan got her start in Washington, DC, working as a staff assistant to Representative Timothy E. Wirth (D-CO), U.S. House of Representatives.

CONSULTANTS & CONTRACTORS
Elaine L. Brock, UIDP Contract Accords Manager is President and Senior Partner of Contracts, Compliance, and Conflict of Interest Authority LLC. C3Authority provides comprehensive, effective, and creative services and solutions covering all aspects of research administration, university-industry relationships, policy, and regulation. Elaine has extensive experience in research administration. For many years she was the Senior Associate Director of the Office of Research and Sponsored Projects at the University of Michigan responsible for oversight of the University-wide pre-award office including all aspect of sponsored projects administration and related processes and policies. Elaine was also the inaugural Director of the University of Michigan Medical School Office of Technology Transfer and Corporate Research.

Under a contract from the National Cancer Institute, Elaine served as the Director of the caBIG® Data Sharing and Intellectual Capital Knowledge Center and sought to expand discussion and facilitate data sharing by providing a centralized, authoritative repository of processes, model agreements, and other resources.

Elaine has served on statewide, regional, and national committees including the Contracts and Intellectual Property Committee and the Board of Directors of the Council on Governmental Relations (COGR). She has been an active participant in the University Industry Demonstration Partnership (UIDP) since its inception.

Elaine has a B.A. from the State University of New York at Buffalo, an M.H.S.A. from the University of Michigan, and a J.D. from Michigan State University College of Law. She is licensed to practice law in the State of Michigan.
Denise Duane, UIDP Operations, joined the University of South Carolina in 2008 to provide administrative support as Program Assistant to the National Academies, University Industry Demonstration Partnership. She provides primary support to the Executive Director using her organizational skills to perform all administrative tasks for the daily business operation. Denise holds a Bachelor of Science degree in Business Administration from the State University of New York at Fredonia. She earned a Master of Arts Degree in Communication from Ohio University. Prior to relocating to Columbia, South Carolina, Denise worked for the Rochester City School District in Rochester, NY for 15 years where she was an Analyst in the Department of Research, Testing and Records.
Rebecca Johnston, Marketing Consultant
began working with the UIDP team in 2009, helping the Partnership find new ways to raise awareness about the organization and its programs and communicate the benefits of membership to members and non-members alike. Prior to beginning Puzzlewood, Rebecca spent several years working in public relations in the hydrogen and fuel cell sector; she continues to work with clients in the energy technology sector today. Rebecca has a Bachelor of Arts (English) from the University of British Columbia.
Robert R. Starbuck, UIDP Treasurer retired in 2008 after 32 years in the pharmaceutical industry. He ended his career as the Assistant Vice President of Clinical Development, Special Projects at Wyeth Research in Collegeville, PA. His responsibilities while at Wyeth also included heading the biostatistics, clinical programming, clinical data management, and field monitoring functions. Dr. Starbuck previously headed the clinical data management, biostatistics, and medical writing functions at Warner Lambert/Parke Davis in Ann Arbor, Michigan, and the clinical statistics group at Burroughs Wellcome in the Research Triangle Park, North Carolina. Dr. Starbuck is an active member of the American Statistical Association. He chaired the Biopharmaceutical Section of the ASA in 1994, chaired the Corporate Member Representatives of the ASA from 1992 through 1996, and chaired the Deming Lectureship Committee in 1998. Since 1994 he has played a leading role in the Statistics Partnerships among Academe, Industry, & Government (SPAIG) initiative sponsored by the American Statistical Association. He is also an active member of the University-Industry Demonstration Partnership, and serves on the UIDP Finance Committee and is Treasurer of the UIDP. Dr. Starbuck received a B.S. in Mathematics from Miami University and a Masters and Ph.D. in Statistics from North Carolina State University, and is an ASA Fellow.