TRANSITION TO FUTURE EARTH NEWS

DIVERSITAS Included in New International Program: Future Earth
Future Earth is a 10–year international program on Earth system research for global sustainability, which will bring together several existing programs on global environmental change, including DIVERSITAS. Future Earth will be an international hub to coordinate new, interdisciplinary approaches to research on three themes: Dynamic Planet, Global Development and Transformation towards Sustainability. It will also be a platform for international engagement to ensure that knowledge is generated in partnership with society and users of science. It is open to scientists of all disciplines, natural and social, as well as engineering, the humanities and law.

More information can be found on the Future Earth website and the North American Regional Consultation for Future Earth page. Future Earth can also be found on Twitter @FutureEarth.
Future Earth to Have Globally Distributed Secretariat
Future Earth will have a new Secretariat, with a unique and innovative structure that spans three continents, as announced by the International Council for Science on behalf of the members of the Science and Technology Alliance for Global Sustainability (the Alliance). The new Secretariat comprises five global hubs, which will function as a single entity. They are located in the United States (Colorado), Canada (Montreal), France (Paris), Japan (Tokyo), and Sweden (Stockholm). For more details, please consult the
ICSU website
.
DIVERSITAS Celebrates 23 Years of Existence and Transition to Future Earth
A conference to celebrate the DIVERSITAS programme on biodiversity science brought together seventy guests representing past and present members of the DIVERSITAS community. The September 2014 event showcased the achievements and legacy of DIVERSITAS over the course of its more than 20 years of existence and highlighted new opportunities for biodiversity science afforded by the transition to Future Earth. A group of four young scientists were selected to report on the meeting, and links to their blogs, photos, and videos can be found on the
Future Earth website
.
OTHER NEWS AND ACTIVITIES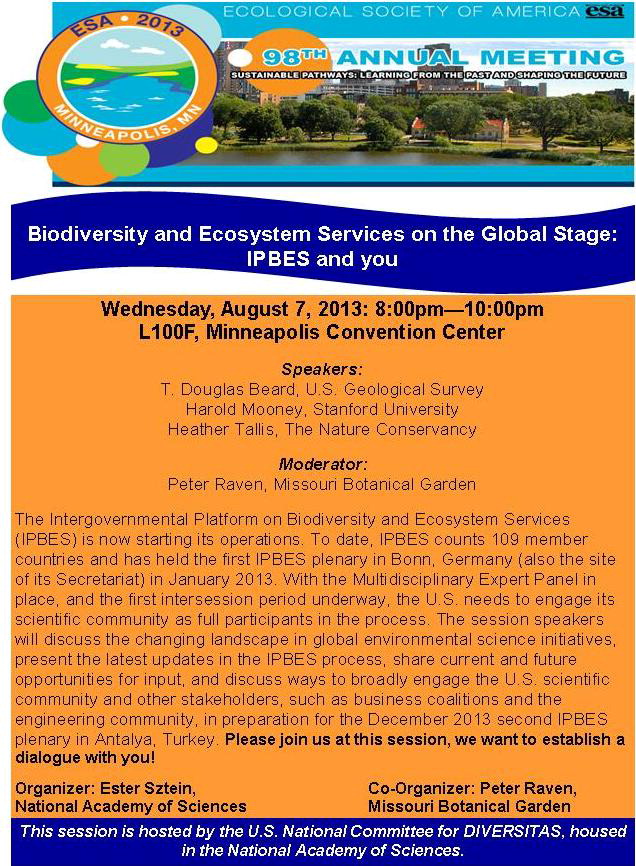 Biodiversity and Ecosystem Services on the Global Stage: IPBES and You
The Intergovernmental Platform on Biodiversity and Ecosystem Services (IPBES) was established in April 2012, as an independent intergovernmental body open to all member countries of the United Nations. Its members are committed to building IPBES as the leading intergovernmental body for assessing the state of the planet's biodiversity, its ecosystems, and the essential services they provide to society. The first IPBES plenary was held on the site of its Secretariat, Bonn, Germany, in January 2013.

In order to encourage the engagement of the U.S. scientific community, the session "Biodiversity and Ecosystem Services on the Global Stage: IPBES and You" was held on August 7, 2013 at the Ecological Society of America Meeting in Minneapolis, Minnesota. The session speakers discussed the changing landscape in global environmental science initiatives, presented the latest updates in the IPBES process, and shared current and future opportunities for input. In addition, they discussed ways to broadly engage the U.S scientific community and other stakeholders, such as business coalitions and the engineering community.

Speakers:
Harold Mooney, Stanford University
Douglas Beard, U.S. Geological Survey
Heather Tallis, The Nature Conservancy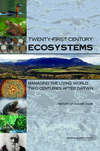 Twenty-First Century Ecosystems: Managing the Living World Two Centuries After Darwin (2011)
The two hundredth anniversary of the birth of Charles Darwin, February 12, 2009, occurred at a critical time for the United States and the world. In honor of Darwin's birthday, the National Research Council appointed a committee under the auspices of the U.S. National Committee (USNC) for DIVERSITAS to plan a Symposium on Twenty-first Century Ecosystems. The purpose of the symposium was to capture some of the current excitement and recent progress in scientific understanding of ecosystems, from the microbial to the global level, while also highlighting how improved understanding can be applied to important policy issues that have broad. To learn more about this publication, please visit http://www.nap.edu/catalog.php?record_id=13109. (Description taken from National Academies Press.)