ACTIVITIES AND EVENTS

15th IUBMB and 24th FAOBMB-TSBMB Conference: October 21 -26, 2014 in Taipei, Taiwan


The 15th International Union of Biochemistry and Molecular Biology (IUBMB) and the 24th Federation of Asian and Oceanian Biochemists and Molecular Biologists (FAOBMB) - Taiwan Society for Biochemistry and Molecular Biology (TSBMB) Conference was held October 21 -26, 2014 in Academia Sinica, Taipei. The event focused on "Biochemistry and Molecular Biology in Transition: from Basic to Translational." More details are available on the 15th IUBMB and 24th FAOBMB-TSBMB Conference website.


2014 International Biophysics Congress: August 3-7 in Brisbane, Australia



The International Union for Pure and Applied Biophysics (IUPAB) and the Australian Society for Biophysics assembled an outstanding scientific program for the 2014 International Biophysics Congress. The conference's plenary speakers were Brian Kobilka, Eduardo Perozo, Carol Robinson, and Michael Patrick Sheetz. For more details, please visit the 2014 International Biophysics Congress website.


2014 International Union of Microbiological Societies (IUMS) Congresses: July 27 – August 1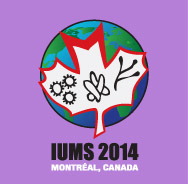 The International Congresses of Bacteriology and Applied Microbiology, Mycology and Eukaryotic Microbiology, and Virology were held July 27 – August 1, 2014 in Montreal, Canada. The three IUMS congresses were held concurrently in order to favor cross-fertilization among disciplines and a modern outlook on microbiology in the 21st century. The Congresses' participants were involved or interested in basic research leading to the advancement of knowledge, clinical research bringing new knowledge from the bench to patients, and/or industrial research dealing with the development and use of microbes for the benefit of mankind. More details can be found on the website of the 2014 International Union of Microbiological Societies Congresses.


IUPS 37th World Congress
The IUPS 37th World Congress was held at the International Convention Centre in Birmingham, United Kingdom from July 21-26, 2013. The IUPS meeting provided an opportunity to get an update across many areas through a series of high-profile keynote lectures, including the Physiological Society's Prize Lectures and the IUPS lectures. For more details, please visit the IUPS 37th World Congress website.

Promoting Education on Dual Use Issues in the Life Sciences
This November 2009 event in Warsaw, Poland was organized by the NAS, Polish Academy of Sciences, InterAcademy Panel on International Issues, International Union for Biochemistry and Molecular Biology (IUBMB), International Union of Microbiogical Societies (IUMS), and the U.S. State Department's Office on Biological Engagement.
About the International Unions in the Biological Sciences

The international unions seek to advance the biological sciences, promote international cooperation and the open exchange of scientific information for the benefit of humankind, and encourage the ethical and responsible conduct of research. The unions also foster engagement with wider scientific networks through membership in organizations such as the International Council for Science (ICSU).
Union Activities

Convening scientific meetings


International congresses and conferences are organized in collaboration with national or regional scientific organizations and draw large numbers of attending scientists. The unions also provide financial support as co-sponsors to smaller disciplinary workshops and symposia.



Supporting younger scientists


Unions offer travel assistance or design dedicated young-scientist programs to enable researchers, particularly those from less-developed countries, to participate in international meetings. Several unions also offer programs supporting research stays in collaborating laboratories, including the UNESCO-IUMS-SGM fellowships and the IUBMB Wood-Whelan fellowships.



Considering the future of bio-education


Many unions sponsor special lectures or symposia on education topics at international meetings. IUBMB has recently partnered with FEBS, ICGEB, UNESCO, and UNCTAD to offer a biennial Advanced Training School in Africa.



Publishing and disseminating information


The unions use their journals to publish reports from conferences, disseminate information on important new research, and address issues of international concern.



Addressing disciplinary nomenclature


A core mission of the unions is to facilitate standardization of fundamental disciplinary nomenclature and terminology. IUMS addresses taxonomy of viruses, prokaryotes, and cultured cells. IUBMB considers biochemical and enzyme nomenclature, and IUPAB was a partner in the inter-union bioinformatics group. Through its Physiome Project, IUPS helps to facilitate a world-wide computational modeling effort.



Promoting the ethical conduct of science


Many of the unions are engaged in the ongoing international dialogue on biosecurity and the potential implications of dual-use developments in biotechnology. IUBMB and IUMS Codes of Ethics are available online.



Participating in the wider network of international science


The unions are members of the International Council for Science (ICSU), an organization of national scientific bodies (120 Members, representing 140 countries) and International Scientific Unions (32 Members). The unions support the rights of all scientists to freely join in international scientific affairs for the benefit of humankind.
Contact
Kathie Bailey, Director