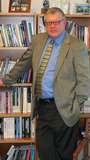 Stephen A. Merrill
Executive Director

T: (202) 334.1581
F: (202) 334.1505
E-mail: smerrill@nas.edu
Stephen Merrill has been Executive Director of the National Academies' Board on Science, Technology, and Economic Policy (STEP) since its formation in 1991. With the sponsorship of a growing number of federal government agencies, foundations, international institutions, and multinational corporations in various sectors, the STEP program has become an important discussion forum and authoritative voice on technical standards, trade, taxation, human resources, and statistical as well as research and development policies. At the same time Dr. Merrill has directed many STEP projects and publications, including Investing for Productivity and Prosperity (1994); Improving the Performance of America's Schools (1995); Industrial Research and Innovation Indicators (1997); U.S. Industry in 2000: Studies in Competitive Performance and Securing America's Industrial Strength (1999); Trends in Federal Support of Research and Graduate Education (2001), A Patent System for the 21st Century (2004), Innovation Inducement Prizes (2007), and Innovation in Global Industries (2008), Managing University Intellectual Property in the Public Interest (2010) and Measuring the Impacts of Federal Investments in Research (2011). For his work on patent reform he was recognized as one of the 50 leading world intellectual property experts by Managing Intellectual Property magazine and awarded the Academies' 2005 Distinguished Service Award
Dr. Merrill's association with the National Academies began in 1985, when he was principal consultant on the Academy report, Balancing the National Interest: National Security Export Controls and Global Economic Competition.
As a consultant he also contributed to Academy studies in the areas of science policy, manufacturing, and competitiveness. In 1987 he was appointed to direct the Academies' first government and congressional liaison office. During his tenure as Executive Director of Government and External Affairs the Academies received a steadily increasing number of congressional requests for policy advice.
Previously, Dr. Merrill was a Fellow in International Business at the Center for Strategic and International Studies (CSIS), where he specialized in technology trade issues. For seven years until 1981, he served on various congressional staffs, the last four years on that of the Senate Commerce, Science, and Transportation Committee, where he organized the first congressional oversight hearings on international competition in biotechnology and microelectronics and was responsible for legislation on technological innovation and the allocation of intellectual property rights arising from government-sponsored research.
Dr. Merrill holds degrees in political science from Columbia (B.A., summa cum laude), Oxford (M. Phil.), and Yale (M.A. and Ph.D.) Universities. In 1992 he attended the Senior Managers in Government Program of the John F. Kennedy School of Government at Harvard University. From 1989 to 1996 he was an adjunct professor of international affairs at Georgetown University.