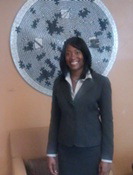 Aqila Coulthurst
Associate Program Officer
Email: acoulthurst@nas.edu

Aqila Coulthurst joined STEP in September 2011 after working as a Marketing Specialist at the National Academies Press (NAP). Her responsibilities at NAP included direct marketing and facilitating intellectual property rights' negotiations, primarily in the Asian markets. She has worked in various capacities at Smithsonian Enterprises, the National Community Action Foundation, and SRI International. Prior to her work at the Academies, Ms. Coulthurst developed and directed a youth program that focused on leadership development and civic engagement. She has a BA in Economics, a BA in Spanish, and a certificate in Markets and Management from Duke University. She also has a Master of Science in Foreign Service from Georgetown University. Ms. Coulthurst serves on the National Academies' Job Squad, a group that helps homeless men and women from the DC-area secure employment.