Liberian Institutions



Background information:
A.M. Dogliotti College of Medicine (AMD) and the Liberia College of Physicians and Surgeons (LCPS)

This section outlines the current graduate and post-graduate medical education structure in Liberia. For additional context on training gaps and needs, U.S. applicants are encouraged to consult the full Concept Note submitted jointly by AMD/LCPS in Phase I.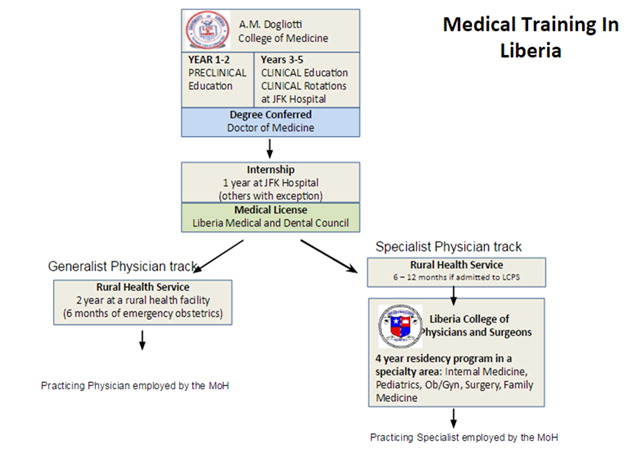 A.M. Dogliotti College of Medicine (AMD) is the sole public medical school in Liberia founded in 1968 and is part of the University of Liberia. Nationally, the medical college is accredited by the National Council of Higher Education of Liberia and is an accredited program under the University of Liberia. AMD is included in the WHO World Directory of Medical Schools. Regionally, medical colleges are accredited by the West African Health Organization (WAHO) following ECOWAS guidelines. Currently, AMD is not accredited by WAHO. The administrative structure of the College of Medicine includes the Dean and Associate Dean, who also serves as Chief Medical Officer at John F. Kennedy (JFK) Medical Center Hospital. AMD has 7 pre-clinical departments and 5 clinical departments offering 36 courses. Currently, AMD has 3 full-time and 9 part-time faculty covering the following pre-clinical courses: Anatomy, Biochemistry, Embryology, Histology, Laboratory Medicine, Pharmacology, Physiology, Neurophysiology, Neuroanatomy, and Ethics. The medical curriculum consists of two components: pre-clinical during the first two years, and clinical for the remaining three years. Students seeking a medical degree at AMD must complete all 36 courses within five years of study. Additional information on the AMD curricula can be found as a Supplement to this RFA.

There are currently 201 students enrolled at AMD and approximately 40 students graduate per year. The school year starts at the end of September, but due to low staffing levels for courses, the start date is typically delayed. Student attrition is a major issue with approximately 50% of enrolled students electing to withdraw from the program within the first two years. A Ministry of Health assessment conducted in 2014 identified several reasons for this high attrition rate including: inconsistent funding for the medical school, insufficient availability of faculty, minimal access to supervised clinical training, and dilapidated education and residential infrastructure.

The Liberia College of Physicians and Surgeons (LCPS) is the sole post-graduate residency training program in Liberia and is an independent institution from AMD and the University of Liberia. Founded by the Government of Liberia in 2013 to respond to the shortage of trained physicians in Liberia, LCPS provides training in the clinical disciplines of Internal Medicine, Obstetrics and Gynecology, Pediatrics, and Surgery. A fifth discipline, Family Medicine, is in development and will be available in the 2017-2018 academic year. Nine full-time faculty, the majority of which are supported by donor programs, currently oversee residency training at 6 teaching hospitals located throughout Liberia. Teaching hospitals include JFK Medical Center, Redemption Hospital, and ELWA Hospital in Monrovia, Phebe Hospital in Bong County, Jackson F. Doe Regional Referral Hospital in Nimba County, and JJ Dossen Hospital in Maryland County. Since 2013, LCPS has enrolled an average of 19 residents per year, with the exception of 2014 when enrollment was halted during the Ebola epidemic. There are currently 47 total residents enrolled at LCPS. The first class of 10 residents will graduate in June of 2017.

Administratively, LCPS is managed by the LCPS Secretariat, which is headed by the Secretary General of LCPS. Policy and training oversight is coordinated by a five member Executive Committee, and the ultimate decision making body is the 19 member Post-graduate Medical Council which includes the Dean of AMD. Two regional governing bodies, the West African College of Physicians (WACP) and the West African College of Surgeons (WACS), provide accreditation of programs at LCPS. Currently, only the Internal Medicine program at LCPS is accredited by WACP. The Pediatrics program is partially accredited by WACP and the General Surgery and Ob/Gyn programs will be evaluated in August of 2017.

Liberia's healthcare challenges are considerable, including high ratios of infant and maternal mortality, a number of infectious diseases, poor infrastructure, and with 14 doctors per 1 million people, Liberia has the lowest ratio of doctors to population in the world. Compounding these issues, the 2014- 2016 Ebola outbreak has added additional burdens to Liberia's already stressed health care system. Liberia currently has more than 1,500 registered Ebola survivors, but based on incidence of infection and mortality reports there may be as many as 5,000 survivors. Though declared Ebola free, these survivors present unique healthcare challenges that cannot be currently met by the Liberian healthcare system. According to a PREVAIL longitudinal study following 1,500 survivors and 6,000 household contacts, survivors suffer neurologic, rheumatologic, ophthalmologic, and psychological sequelae at statistically significantly higher rates than their household contacts. However, there are no neurologists or infectious disease specialists in Liberia, only one psychiatrist, and an insufficient amount ophthalmologists to address Liberia's needs. Though efforts such as PREVAIL and others are providing limited care in these areas, there is a need to develop sustainable programs that can train Liberian specialists.

Various gaps exist at both AMD and LCPS that impact the ability of Liberia to produce the number and quality of trained physicians and specialists needed to address Liberia's healthcare needs. At AMD, a lack of qualified full-time instructors at the preclinical and clinical level, and the academic pipeline to produce them, has made educating and graduating medical students in 5 years extremely difficult. Additionally, faculty sustainability and continuing education in areas such as teaching methodology and research are also lacking. At LCPS low enrollment numbers due to poorly prepared applicants and lack of interest in specialty training among working physicians is impacting the number of specialists LCPS can train. A lack of specialists capable of practicing family medicine in rural settings, and a lack of specialty training programs in areas such as infectious disease, ophthalmology, and clinical research weaken the ability of LCPS to produce specialists that can address Liberia's existing and Ebola-related healthcare needs.