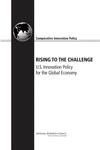 Rising to the Challenge: U.S. Innovation Policy for Global Economy
(July 2012)
February 13, 2013
Making America Competitive Again: Restoring US Innovation Leadership

Manufacturing.net

Please join us for a seminal event co-sponsored by the National Academies of Science, the Harvard Business School, and the Information Technology and Innovation Foundation that will explore the causes, evidence, and consequences of faltering U.S. ...
July 30, 2012
Rising to the Challenge: The National Academies and Innovation Policy
Council on Foreign Relations
They would have done better to save their breath and instead spend some time reading the new report from the National Academy of Sciences, "Rising to the Challenge: U.S. Innovation Policy for the Global Economy." While it was a symbolic affront to see Olympic gear carrying a "Made in China" label...