Recent Publications
(Including joint publications with other units)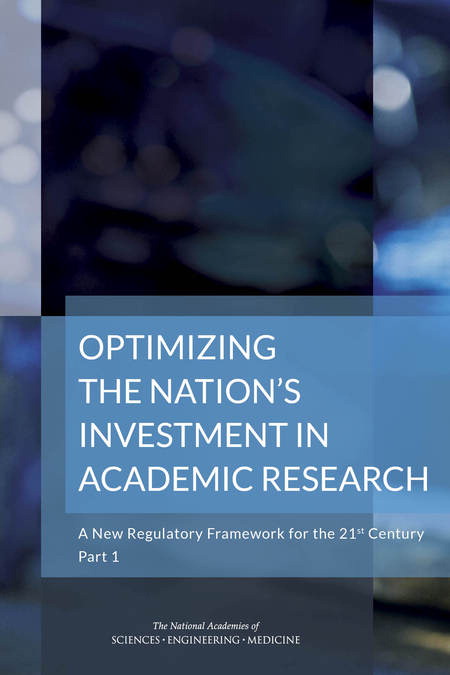 Optimizing the Nation's Investment in Academic Research: A New Regulatory Framework for the 21st Century:
Part 1 (Prepublication release: September 2015)
Research universities are critical contributors to our national research enterprise. They are the principal source of a world-class labor force and fundamental discoveries that enhance our lives and the lives of others around the world. These institutions help to create an educated citizenry capable of making informed and crucial choices as participants in a democratic society. However many are concerned that the unintended cumulative effect of federal regulations undercuts the productivity of the research enterprise and diminishes the return on the federal investment in research. (Committee on Science, Technology, and Law (CSTL)/ Board on Higher Education and Workforce (BHEW))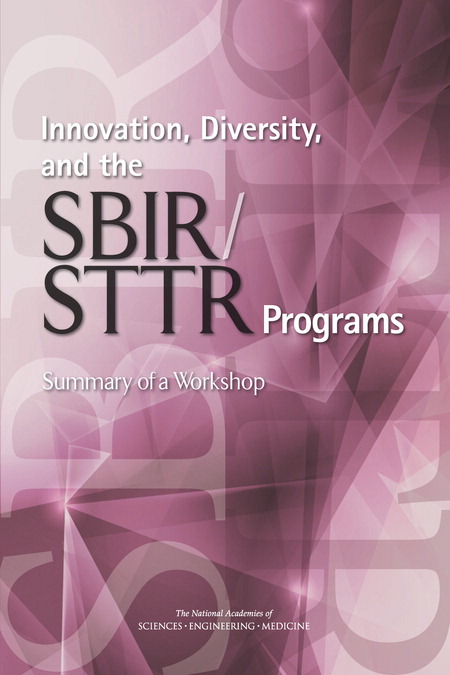 Innovation, Diversity, and the SBIR/STTR Programs: Summary of a Workshop (2015)
The Small Business Innovation Research (SBIR) and Small Business Technology Transfer (STTR) programs provide federal research and development funding to small businesses. One of the goals of these programs is to foster and encourage participation by minority and disadvantaged persons in technological innovation. Innovation, Diversity, and Success in the SBIR/STTR Programs is the summary of a workshop convened in February 2013 that focused on the participation of women, minorities, and both older and younger scientists, engineers, and entrepreneurs in the SBIR and STTR programs, with the goal of reviewing current efforts to expand the pool of SBIR/STTR-funded researchers and of identifying mechanisms for improving participation rates. This report is a record of the presentation and discussions of the event. .(Board on Science, Technology, and Economic Policy (STEP))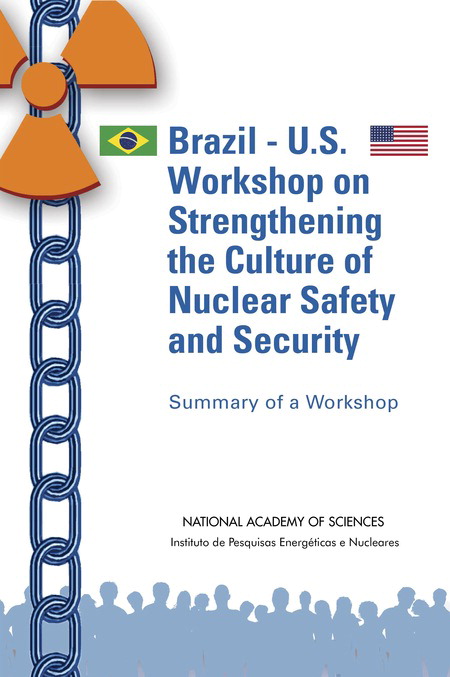 Brazil-U.S. Workshop on Strengthening the Culture of Nuclear Safety and Security: Summary of a Workshop (2015)
On August 25-26, 2014, the Instituto de Pesquisas Energ?ticas e Nucleares (IPEN) and the National Research Council of the U.S. National Academy of Sciences convened the Brazil-U.S. Workshop on Strengthening the Culture of Nuclear Safety and Security. The workshop, held on the IPEN Campus in S?o Paulo, Brazil, examined how a culture of nuclear safety and security is built and maintained within the nuclear science, technology, and industrial sectors. Participants identified opportunities for cooperation to strengthen that culture and shared research, perspectives, and practices. This report summarizes the presentation and discussion of that event.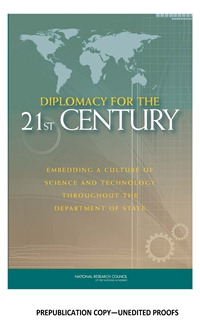 Diplomacy for the 21st Century (Prepublication June 2015)
Diplomacy for the 21st Century recommends steps that the Department of State should embrace to take full advantage of the leading science and technology (S&T) capabilities of the United States. These capabilities provide the department with many opportunities to promote a variety of the interests of the United States and its allies in a rapidly changing world wherein S&T are important drivers of economic development at home and abroad and help ensure international security. This report assesses and makes recommendations concerning the changing environment for the conduct of diplomacy in the years ahead, with a focus on the role of S&T in the development and implementation of U.S. policies and programs. According to this report, prompt steps by the department s leadership are essential to ensure adequate comprehension of the importance of S&T-related developments throughout the world and to incorporate this understanding within the nation's foreign policy for the 21st century. This report also urges the adoption by the department of a broader whole-of-society approach in carrying out its responsibilities at home and abroad - extending beyond traditional interagency coordination and the narrow band of current external partners to include foundations, universities, research centers, and other groups who are extending their international reach. (Development, Security, and Cooperation (DSC) )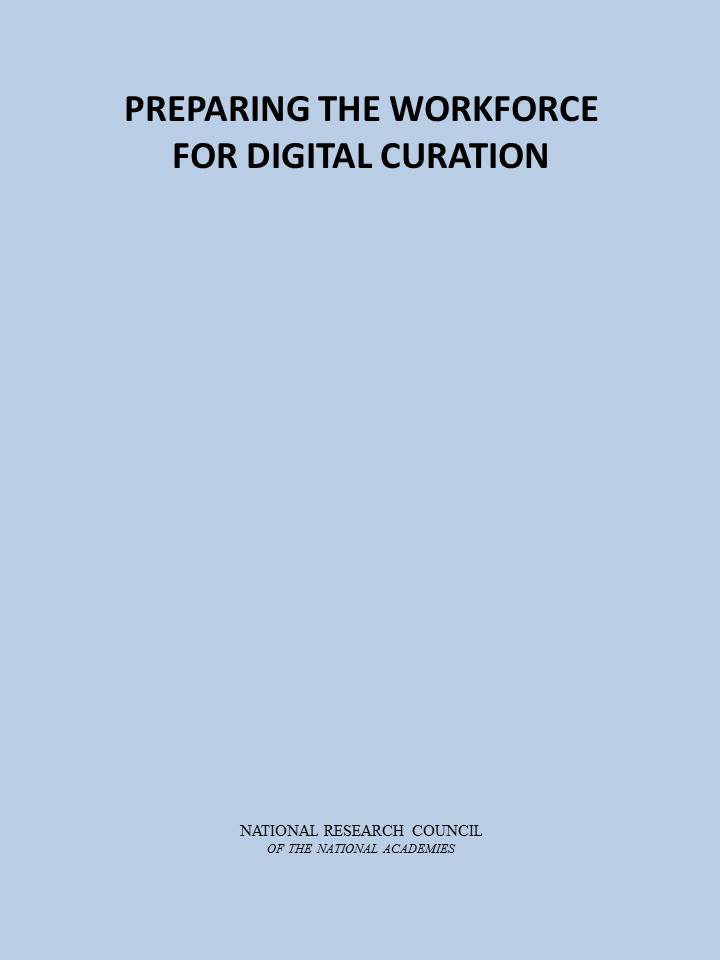 Preparing the Workforce for Digital Curation (April 2015)
The massive increase in digital information in the last decade has created new requirements for institutional and technological structures and workforce skills. Preparing the Workforce for Digital Curation focuses on education and training needs to meet the demands for access to and meaningful use of digital information, now and in the future. This study identifies the various practices and spectrum of skill sets that comprise digital curation, looking in particular at human versus automated tasks. Additionally, the report examines the possible career path demands and options for professionals working in digital curation activities, and analyzes the economic benefits and societal importance of digital curation for competitiveness, innovation, and scientific advancement. Preparing the Workforce for Digital Curation considers the evolving roles and models of digital curation functions in research organizations, and their effects on employment opportunities and requirements. The recommendations of this report will help to advance digital curation and meet the demand for a trained workforce. (Board on Research Data and Information)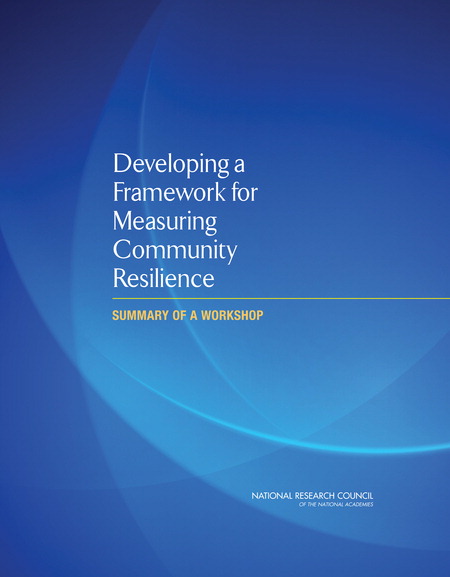 Developing a Framework for Measuring Community Resilience: Summary of a Workshop (March 2015)
The 2012 National Research Council report Disaster Resilience: A National Imperative highlighted the challenges of increasing national resilience in the United States. One finding of the report was that "without numerical means of assessing resilience, it would be impossible to identify the priority needs for improvement, to monitor changes, to show that resilience had improved, or to compare the benefits of increasing resilience with the associated costs." Although measuring resilience is a challenge, metrics and indicators to evaluate progress, and the data necessary to establish the metric, are critical for helping communities to clarify and formalize what the concept of resilience means for them, and to support efforts to develop and prioritize resilience investments. One of the recommendations from the 2012 report stated that government entities at federal, state, and local levels and professional organizations should partner to help develop a framework for communities to adapt to their circumstances and begin to track their progress toward increasing resilience. To build upon this recommendation and begin to help communities formulate such a framework, the Resilient America Roundtable of the National Academies convened the workshop Measures of Community Resilience: From Lessons Learned to Lessons Applied on September 5, 2014 in Washington, D.C. The workshop's overarching objective was to begin to develop a framework of measures and indicators that could support community efforts to increase their resilience. The framework will be further developed through feedback and testing in pilot and other partner communities that are working with the Resilient America Roundtable. This report is a summary of the one-day workshop, which consisted of a keynote address and two panel sessions in the morning and afternoon breakout sessions that began the discussion on how to develop a framework of resilience measures. (Resilient America)

Potential Risks and Benefits of Gain-of-Function Research: Summary of a Workshop (February 2015)
On October 17, 2014, spurred by incidents at U.S. government laboratories that raised serious biosafety concerns, the United States government launched a one-year deliberative process to address the continuing controversy surrounding so-called "gain-of-function" (GOF) research on respiratory pathogens with pandemic potential. The gain of function controversy began in late 2011 with the question of whether to publish the results of two experiments involving H5N1 avian influenza and continued to focus on certain research with highly pathogenic avian influenza over the next three years. The heart of the U.S. process is an evaluation of the potential risks and benefits of certain types of GOF experiments with influenza, SARS, and MERS viruses that would inform the development and adoption of a new U.S. Government policy governing the funding and conduct of GOF research.Potential Risks and Benefits of Gain-of-Function Research is the summary of a two-day public symposia on GOF research. Convened in December 2014 by the Institute of Medicine and the National Research Council, the main focus of this event was to discuss principles important for, and key considerations in, the design of risk and benefit assessments of GOF research. Participants examined the underlying scientific and technical questions that are the source of current discussion and debate over GOF research involving pathogens with pandemic potential. This report is a record of the presentations and discussion of the meeting. (Board on Life Sciences (BLS)/Committee on Science, Technology and Law (CSTL)/Institute of Medicine (IOM))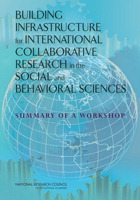 Building Infrastructure for International Collaborative Research in the Social and Behavioral Sciences: Summary of a Workshop (February 2015)
Building Infrastructure for International Collaborative Research in the Social and Behavioral Sciences is the summary of a workshop convened by the National Research Council's Committee on International Collaborations in Social and Behavioral Sciences in September 2013 to identify ways to reduce impediments and to increase access to cross-national research collaborations among a broad range of American scholars in the behavioral and social sciences (and education), especially early career scholars. Over the course of two and a half days, individuals from universities and federal agencies, professional organizations, and other parties with interests in international collaboration in the behavior and social sciences and education made presentations and participated in discussions. They came from diverse fields including cognitive psychology, developmental psychology, comparative education, educational anthropology, sociology, organizational psychology, the health sciences, international development studies, higher education administration, and international exchange. (Board on International Scientific Organizations (BISO))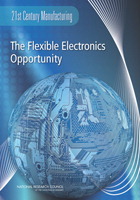 The Flexible Electronics Opportunity (January 2015)
The Flexible Electronics Opportunity examines and compares selected innovation programs both foreign and domestic, and their potential to advance the production of flexible electronics technology in the United States. This report reviews the goals, concept, structure, operation, funding levels, and evaluation of foreign programs similar to major U.S. programs, e.g., innovation awards, S&T parks, and consortia. The report describes the transition of flexible electronics research into products and to makes recommendations to improve and to develop U.S. programs. Through an examination of the role of research consortia around the world to advance flexible electronics technology, the report makes recommendations for steps that the U.S. might consider to develop a robust industry in the United States.Significant U.S. expansion in the market for flexible electronics technologies is not likely to occur in the absence of mechanisms to address investment risks, the sharing of intellectual property, and the diverse technology requirements associated with developing and manufacturing flexible electronics technologies. The Flexible Electronics Opportunity makes recommendations for collaboration among industry, universities, and government to achieve the critical levels of investment and the acceleration of new technology development that are needed to catalyze a vibrant flexible electronics industry.(Board on Science, Technology, and Economic Policy (STEP))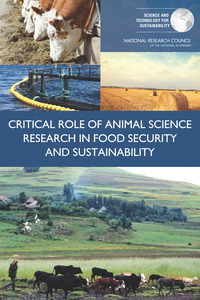 Critical Role of Animal Science Research in Food Security and Sustainability (Prepublication January 2015)
This report identifies areas of research and development, technology, and resource needs for research in the field of animal agriculture, both nationally and internationally. This report assesses the global demand for products of animal origin in 2050 within the framework of ensuring global food security; evaluates how climate change and natural resource constraints may impact the ability to meet future global demand for animal products in sustainable production systems; and identifies factors that may impact the ability of the United States to meet demand for animal products, including the need for trained human capital, product safety and quality, and effective communication and adoption of new knowledge, information, and technologies. (Science and Technology for Sustainability (STS))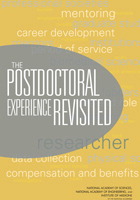 The Postdoctoral Experience Revisited (December 2014)
The Postdoctoral Experience Revisited takes a fresh look at current postdoctoral fellows - how many there are, where they are working, in what fields, and for how many years. This book makes recommendations to improve aspects of programs - postdoctoral period of service, title and role, career development, compensation and benefits, and mentoring. Current data on demographics, career aspirations, and career outcomes for postdocs are limited. This report makes the case for better data collection by research institution and data sharing. A larger goal of this study is not only to propose ways to make the postdoctoral system better for the postdoctoral researchers themselves but also to better understand the role that postdoctoral training plays in the research enterprise. It is also to ask whether there are alternative ways to satisfy some of the research and career development needs of postdoctoral researchers that are now being met with several years of advanced training. Postdoctoral researchers are the future of the research enterprise. The discussion and recommendations of The Postdoctoral Experience Revisited will stimulate action toward clarifying the role of postdoctoral researchers and improving their status and experience.(Committee on Science, Engineering, and Public Policy (COSEPUP))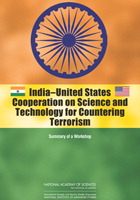 India-United States Cooperation on Science and Technology for Countering Terrorism: Summary of a Workshop (December 2014)
India and the United States are the world's two largest democracies with distinguished scientific traditions and experts in a wide range of scientific-technical fields. Given these strengths and the ability to learn from one another, the U.S. National Academy of Sciences together with the National Institute for Advanced Studies in Bangalore, India, held a joint Indian-U.S. workshop to identify and examine potential areas for substantive scientific and technical cooperation that can support counterterrorism efforts through the Homeland Security Dialogue and through direct cooperation. India-United States Cooperation on Science and Technology for Countering Terrorism is the summary of that workshop. This report examines topics such as biological threats; protection of nuclear facilities; security (physical and cyber) for chemicals, chemical facilities and other critical infrastructure; and monitoring, surveillance, and emergency response. The report also identifies and examines promising areas for further Indian-U.S. cooperation. (Committee on International Security and Arms Control (CISAC))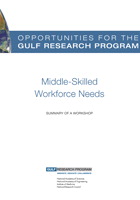 Opportunities for the Gulf Research Program: Middle-Skilled Workforce Needs: Summary of a Workshop (October 2014)
During the period 1990 to 2010, U.S. job growth occurred primarily in the high-skilled and low-skilled sectors. Yet, one-third of projected job growth for the period 2010-2020 will require middle-skilled workers -- who will earn strong middle-class wages and salaries -- important to both the production and consumption components of our economy. These jobs typically require significant training, often requiring more than a high school diploma but less than a baccalaureate degree. In the Gulf of Mexico, middle skilled workers play key roles in maintaining oil system safety, completing the numerous environmental restoration projects needed along the Gulf coast, and as workers in an integrated and resilient public health system. Educational pathways that lead to middle skilled jobs in these areas include: apprenticeship programs offered by schools, unions, and employers; high school career and technical education programs; community college courses, certificates, and associate degrees; and employer provided training.Opportunities for the Gulf Research Program: Middle-Skilled Workforce Needs is the summary of a workshop held on June 9-10, 2014 in Tampa, Florida. This workshop convened 40 thought leaders from the Gulf region's education, employer, and policymaking communities to facilitate a discussion of the current state of education and training pathways for preparing the region's middle-skilled workforce in both the short- and long-term and to identify perceived needs and potential opportunities that might be addressed by the GRP. Workshop participants discussed a variety of opportunities around building capacity in the region's middle-skilled workforce, including the need for competency-based education and training approaches and stronger partnerships among the region's employers and institutions of higher education. (Board on Higher Education and Workforce (BHEW)/Gulf Research Program)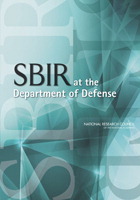 SBIR at the Department of Defense (October 2014)
SBIR at the Department of Defense considers ways that the Department of Defense SBIR program could work better in addressing the congressional objectives for the SBIR program to stimulate technological innovation, use small businesses to meet federal research and development (R & D) needs, foster and encourage the participation of socially and economically disadvantaged small businesses, and increase the private sector commercialization of innovations derived from federal R&D. An earlier report, An Assessment of the Small Business Innovation Research Program at the Department of Defense, studied how the SBIR program has stimulated technological innovation and used small businesses to meet federal research and development needs. This report builds on the previous one, with a revised survey of SBIR companies. SBIR at the Department of Defense revisits some case studies from the 2009 study and develops new ones, and interviews agency managers and other stakeholders to provide a second snapshot of the program's progress toward achieving its legislative goals. (Board on Science, Technology, and Economic Policy (STEP))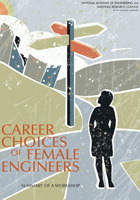 Career Choices of Female Engineers: A Summary of a Workshop (October 2014)

Despite decades of government, university, and employer efforts to close the gender gap in engineering, women make up only 11 percent of practicing engineers in the United States. What factors influence women graduates' decisions to enter the engineering workforce and either to stay in or leave the field as their careers progress? Researchers are both tapping existing data and fielding new surveys to help answer these questions.On April 24, 2013, the National Research Council Committee on Women in Science, Engineering, and Medicine held a workshop to explore emerging research and to discuss career pathways and outcomes for women who have received bachelor's degrees in engineering. Participants included academic researchers and representatives from the Department of Labor, National Science Foundation, and Census Bureau, as well as several engineering professional societies. Career Choices of Female Engineers summarizes the presentations and discussions of the workshop. (Committee on Women in Science, Engineering, and Medicine (CWSEM))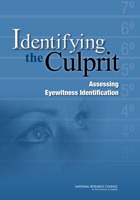 Identifying the Culprit: Assessing Eyewitness Identification(October 2014)
Eyewitnesses play an important role in criminal cases when they can identify culprits. Estimates suggest that tens of thousands of eyewitnesses make identifications in criminal investigations each year. Research on factors that affect the accuracy of eyewitness identification procedures has given us an increasingly clear picture of how identifications are made, and more importantly, an improved understanding of the principled limits on vision and memory that can lead to failure of identification. Factors such as viewing conditions, duress, elevated emotions, and biases influence the visual perception experience. Perceptual experiences are stored by a system of memory that is highly malleable and continuously evolving, neither retaining nor divulging content in an informational vacuum. As such, the fidelity of our memories to actual events may be compromised by many factors at all stages of processing, from encoding to storage and retrieval. Unknown to the individual, memories are forgotten, reconstructed, updated, and distorted. Complicating the process further, policies governing law enforcement procedures for conducting and recording identifications are not standard, and policies and practices to address the issue of misidentification vary widely. These limitations can produce mistaken identifications with significant consequences. What can we do to make certain that eyewitness identification convicts the guilty and exonerates the innocent? Identifying the Culprit makes the case that better data collection and research on eyewitness identification, new law enforcement training protocols, standardized procedures for administering line-ups, and improvements in the handling of eyewitness identification in court can increase the chances that accurate identifications are made. (Committee on Science, Technology, and Law (CSTL))/ (Division of Behavioral and Social Sciences and Education (DBASSE))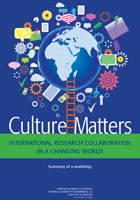 Culture Matters: International Research Collaboration in a Changing World--Summary of a Workshop (September 2014)
Culture Matters is the summary of a workshop convened by the Government-University-Industry Research Roundtable (GUIRR) in July 2013 to address how culture and cultural perception influence and impact the process by which research agreements are made and negotiated across international boundaries. In this workshop, "Culture Matters: An Approach to International Research Agreements", representatives from around the world and from GUIRR's three constituent sectors - government, university, and industry - gathered to provide input into four specific meeting tracks or domains. The tracks focused on research and agreements affecting or involving people/human subjects; environmental and natural resources; science, engineering, and manufacturing; and agriculture and animal issues. This report examines each of these domains and the role that culture and cultural expectations may have in the forging and implementation of international research agreements. (Government University Industry Research Round Table (GUIRR))

Best Practices for Risk-Informed Decision Making Regarding Contaminated Sites: Summary of a Workshop Series (July 2014)
This report is the summary of two workshops convened in October 2013 and January 2014 on best practices for risk-informed remedy selection, closure, and post-closure control of radioactive and chemically contaminated sites that present significant difficulty for remediation to unrestricted release. The workshop series aimed to explore best practices that promote effective, risk-informed decision making and future opportunities to improve remediation approaches and practices.In the Workshop #1 section of Best Practices for Risk-Informed Decision Making Regarding Contaminated Sites, the report examines holistic approaches for remediating sites with multiple contaminant sources and post-closure uses, and approaches for incorporating a sustainability framework into decision making regarding site remediation, closure, and post-closure control. In Workshop #2, the report focuses on post-closure controls, assessment of long-term performance of site remedies, and best practices for risk-based remediation decisions. (Science and Technology for Sustainability (STS))
Strategic Engagement in Global S&T: Opportunities for Defense Research (June 2014)
The U.S. Department of Defense has long relied on its historical technological superiority to maintain military advantage. But as the U.S. share of global scientific and technological output shrinks, DOD needs to re-examine its strategy for maintaining awareness of S&T developments emerging around the world. This report recommends that the U.S. Department of Defense develop an implementable strategy to improve its awareness of the global S&T landscape and identify opportunities for collaboration. The report urges DOD to pursue a full spectrum of activities ranging from data analytics and reading emerging scientific literature, to holding and attending international scientific conferences, to funding collaborative research projects. (Board on Global Science and Technology)
Complex Operational Decision Making in Networked Systems of Humans and Machines: A Multidisciplinary Approach (June 2014)
The potential for using technology to enhance the way people make complex decisions is significant now, as advances in software and memory storage make access to large amounts of data possible. Still, human beings do not have the ability to analyze the vast quantities of computer-generated data. How might humans and computers team up to turn this data into reliable and timely decisions? This report explores the possibilities for better decision making through collaboration between humans and computers. It outlines research goals and relevant milestones in several subfields that could enhance human-machine collaboration for complex decision making.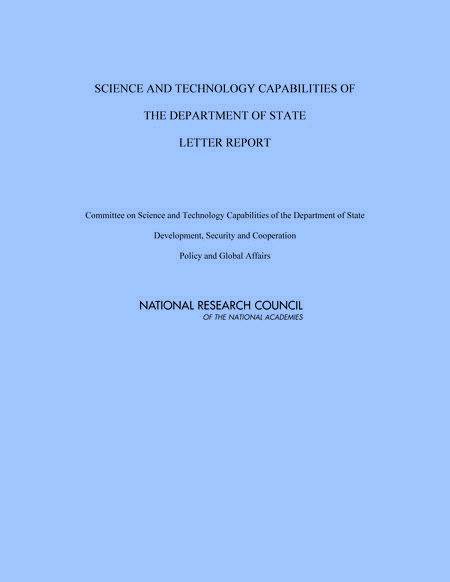 Science and Technology Capabilities of the Department of State: Letter Report (April 2014)
This interim report of the National Research Council was written in response to a request from former Under Secretary Robert Hormats, to undertake an assessment of the capabilities of the Department of State that are particularly important as science and technology become integral aspects of diplomacy.. (Development, Security, and Cooperation (DSC))



The Arc of the Academic Research Career: Issues and Implications for U.S. Science and Engineering Leadership: Summary of a Workshop (March 2014)
America's research universities have undergone striking changes in recent decades, and the traditional career path for faculty --developed in the mid-nineteenth and early twentieth centuries -- is now a source of strain for both the individuals pursuing it and the institutions in which they work. This report summarizes a workshop held in September 2013 to examine major points of tension in academic research careers from the viewpoints of both faculty members and institutions. Workshop presentations explored the challenges universities face, such as nurturing the talent of future faculty members and managing their progress through all the stages of their careers, as well as challenges faced by faculty, such as navigating early-career bottlenecks and balancing work and family. National experts from a variety of disciplines and institutions discussed successful strategies in use on campuses and identified issues not yet effectively addressed. (Committee on Science, Engineering, and Public Policy (COSEPUP))
Pathways to Urban Sustainability: Perspective from Portland and the Pacific Northwest: Summary of a Workshop (March 2014)
For more than 40 years, the Portland Metropolitan Region has been a national leader in urban policies and investments intended to revitalize the central city and adjacent neighborhoods, preserve the environment, improve equity, and make the city more economically competitive and livable. Among the elements contributing to Portland's success have been strong public-private partnerships, a culture of planning, and a willingness to implement diverse ideas generated by federal, state, and local agencies, academics, and the private sector. This report summarizes a 2013 workshop that examined issues related to sustainability in the Portland metropolitan and greater Pacific Northwest regions. Presentations and discussions explored the role of land use restrictions on development, transportation innovations, and economic and social challenges, among other subjects. The workshop was the third in a series of place-based workshops on urban sustainability, preceded by events in Atlanta and Houston. (Science and Technology for Sustainability (STS))